The exclusive MICROWAVE technology by Pedrini lands in Margramar - Brazil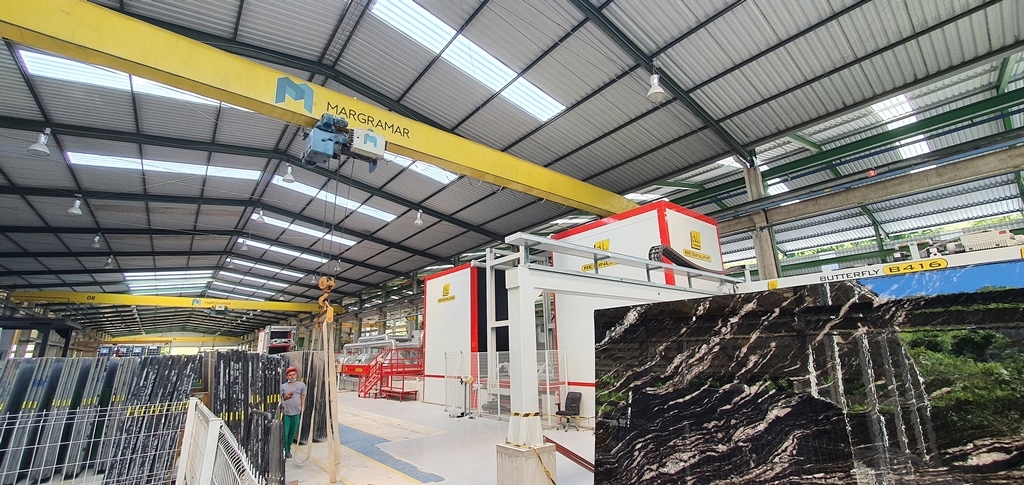 Margramar Granitos is a Brazilian company founded in 1986 near Cachoeiro de Itapemirin, about 400 kilometers north of Rio de Janeiro. It immediately became a national reference point in the processing of Brazilian ornamental stones sector, including the exotic and super-exotic granites and quartzites. Starting from 2000, the company began an internationalization process increasing its export activities.
In this frame of growth and development, Margramar has chosen Pedrini for the design and construction of an entire finishing plant for natural stone slabs consisting of a honing line, a polishing line and a resin line.
Once the first part of the project kicked off, including the mounting of two GALAXY B200GB polishing machines, the plant has been recently completed by a RESINLINE, the technically advanced and customized automatic resin line to meet the customer's logistical-production needs.
The technological heart of Margramar's resin plant is the exclusive MICROWAVE B460MW. The resining technology with a microwave oven by Pedrini has many advantages compared to traditional resining:
rapid, reliable and thorough restructuring of materials

higher percentage of slab restoration thanks to the effective catalysis process of the applied resin

processing temperatures around 55°, compatible with all types of marble and granite

more effective resin catalysis with rapid aging for better stone/resin polishing

rapid treatment even with slow-catalysis resins to anticipate the slab handling and to start honing or polishing operations after only 10 hours from unloading, unlike the 48-hour storage time requested by the classic method

extreme cycle time decrease thanks to the reduction of the slab storage time between the various process stages: honing, resining and polishing

optimized lead time
With this new plant made by Pedrini, Margramar's natural stone materials are automatically processed, the slabs are positioned on trays with close-structure throughout the whole treatment, making production even more competitive, safe and efficient. Do you need more info?
Feel free to contact us for product information, events, customer care and open jobs.