The Caruso brothers choose Pedrini to expand their production lines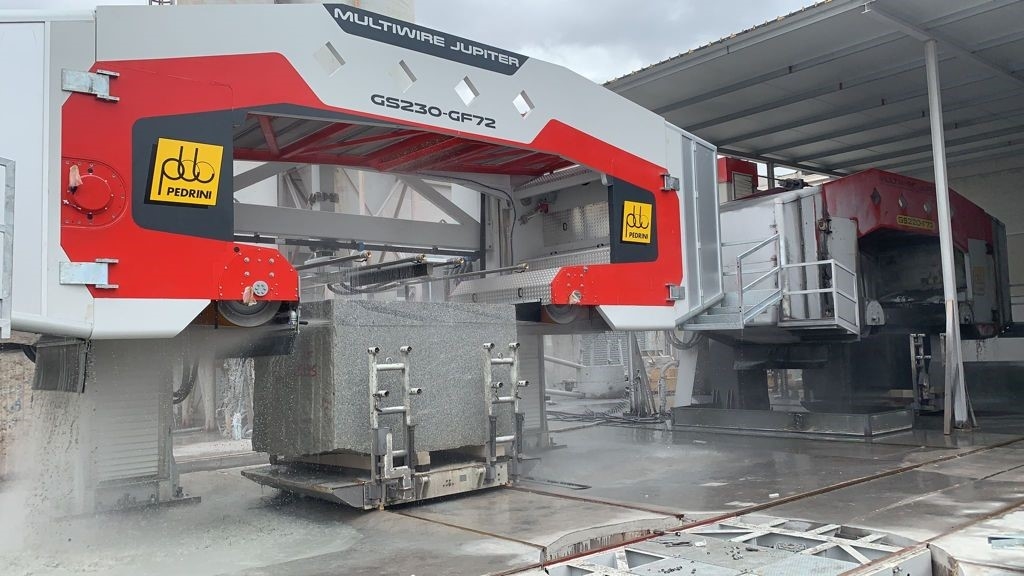 Two brothers, two Sicilian companies, only one partner: Pedrini.

Alfa Graniti and FC Marmi e Graniti, respectively owned by Giovanni and Franco Caruso, chose Pedrini to expand and renew their natural stone processing plants. The two companies are in fact specialized in marble and granite processing: the first one is committed to respond to customers' needs by offering a fast and flexible service in an increasingly demanding market that pays great attention to the quality of the processed materials. The second one with a particular focus on the U.S. and Canadian markets which, in recent years, are increasing the demand for fine materials from Italy.

Alfa Graniti had purchased in 2017 the first Pedrini multiwire machine with 5.3 mm-diameter diamond wires with the aim of increasing the production capacity.
Today, in order to make the most of the multiwire work, the company renewed its trust in Pedrini by replacing the polishing line with a new, high-performance line composed of the granite polishing machine Galaxy B220GX with 20 heads, two of which Aquila heads to prepare the slab surface for polishing, a 4-spindle waxing machine and the automatic loader and unloader Mantis with ground travel translation and compact dimensions designed for book match processing.

Galaxy B220GX is equipped as standard with Pedrini patented Antishock heads with 7 Fickert abrasives and, upon request, it can be fitted with Aquila heads with diamond milling tools in the first positions. The Pedrini polishing machine allows to reach high production performance and a very high degree of polishing quality with low use and maintenance costs. Moreover, thanks to the predisposition for the 4.0 technology, it can be interconnected with the company information system for an efficient management of the work orders.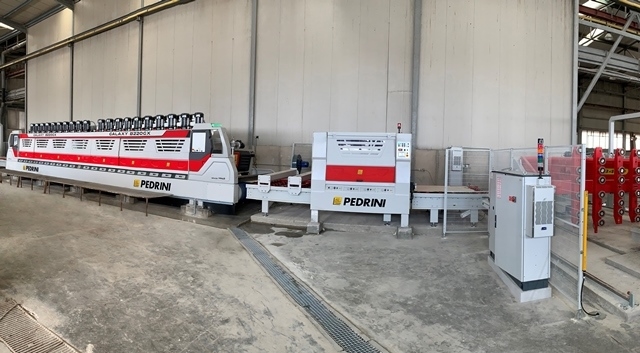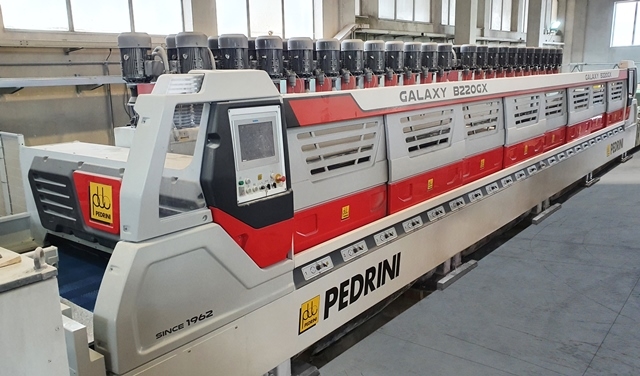 Also in the FC Marmi e Graniti plant, where there are already 2 multiwire machines and a marble polisher by Pedrini, an important investment has been made to expand the production of slabs through the purchase of a Galaxy B220GX with 22 heads, 6 Singlewire machines and 2 more multiwire Jupiter GS230 with 72 diamond wires with 5,3mm diameter.

Pedrini multiwire Jupiter GS230 has 5 patents and is characterized by flexibility, reliability, state-of-the-art technical solutions and by very high production capacity.
The strip production line of FC Marmi e Graniti has been renewed as well thanks to the purchase of 2 new 56-disc granite block cutters complete with automatic unloader and of the Supernova calibrating/polishing machine with 2 calibrating and 14 polishing heads.

"We are very satisfied of the cooperation with Pedrini, for us synonymous with guarantee and reliability" - said the Caruso brothers - "We are sure that the new plants will help us reach our growth targets". Do you need more info?
Feel free to contact us for product information, events, customer care and open jobs.