Slabs polishing machine for granite Galaxy B220GV
Galaxy B220GV is the only slabs polishing machine for granite, existing in the current market, able to cut down the abrasives consumption by 30%.
This figure, confirmed by the most important abrasives producers, is achieved thanks to the following technical features:
The patented polishing head to be equipped with 7 swinging abrasives with sequential movement enables the sharp contact of 6 abrasives. This allows to remove the material in a faster way against the traditional heads which perform the sharp contact of just 4 abrasives.
The patented spindle 'Rotor' is featured by direct transmission, which eliminates stresses produced by traditional belts and pulleys transmissions. The advantages of this technology are a more efficient power transmission and a more precise truing of the polishing heads.
The vertical movement of the spindle 'Rotor' is driven by a pneumatic system with controlled pressure. Specifically, the counterpressure adjustment, which takes off weight from the polishing head, allows to manage the force caused by the abrasives with absolute precision and consequently the material removal.
The heads-holding beam runs along three bridges. The driving devices of the beam transversal movement are located in the two bridges placed at the tail of the beam. The central bridge warrants the precise support on the slabs of all the polishing heads.
The continuity of our machinery performances and our customers' greatest satisfaction have been our leading lines for almost 50 years.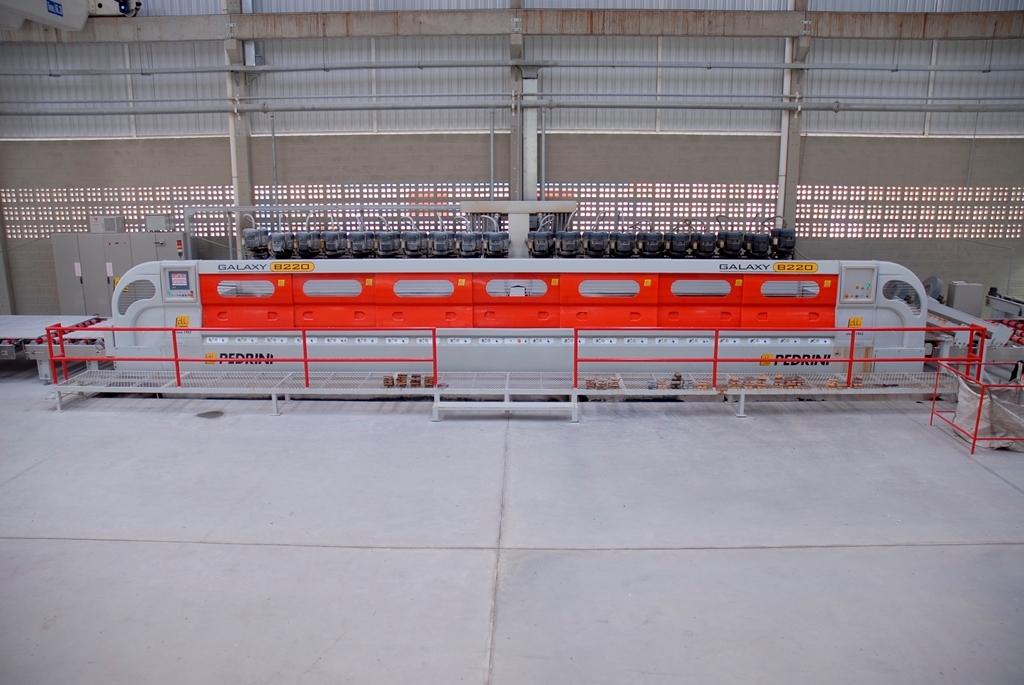 Do you need more info?
Feel free to contact us for product information, events, customer care and open jobs.