OMAN: Pedrini confirms its leadership in marble processing plants
A further complete plant joined the many already installed in the Sultanate of Oman. Al Tamman Trading Establishment LLC, as well, decided for Pedrini technology for its processing plant for marble slabs and tiles.
The plant has got two production units.
The first one, regarding slabs production, is composed
Blocks cutting unit with three 80 blade gang saws GS131.
Slabs polishing line with Galaxy B220MA-8 + Galaxy B220MA-18, plastering and drying with UV ovens.
Slabs resinline with microwave oven.
The technology of microwave resinline creates a double advantage compared to the traditional one:
it allows a higher consolidation percentage of the processed slabs thanks to the deeper resin penetration and to the excellent catalysis quality;
it allows a considerable increase of the material polishing quality with a proved growing of the surface gloss.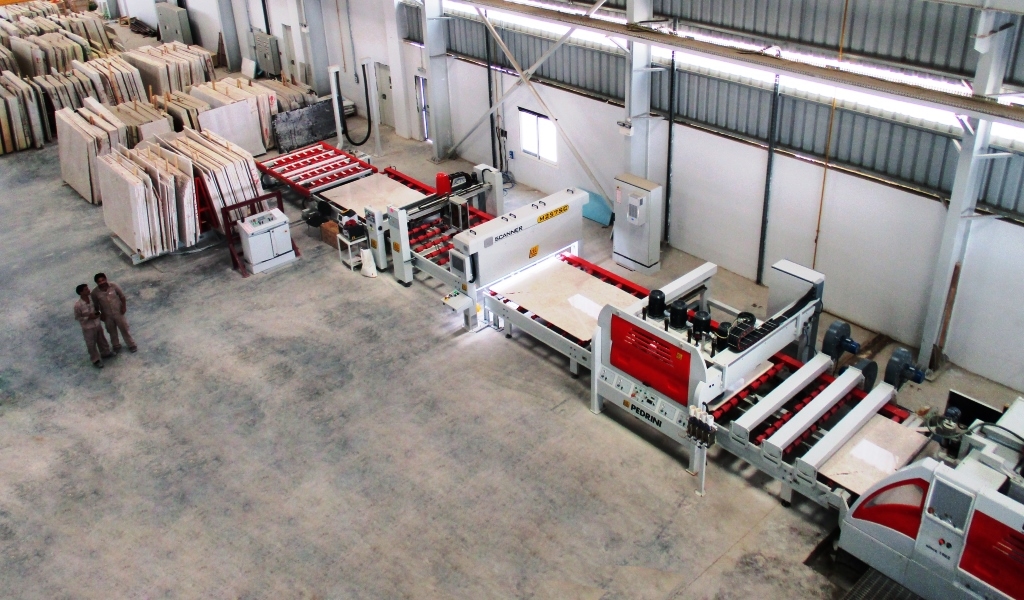 The second section, for tiles production, is composed of the following departments:
Blocks cutting unit with five block cutters M586.
Strips finishing line with B065MV-6+6 and B065MV-14, plastering and drying unit with UV ovens, cut to size with continuous transversal cross cutting machine M750.
The input on the market of great quantities of Omani material processed with microwave technology made essential for other local operators, to equip their factories with microwave plants. Indeed, five are the plants ordered to Pedrini in the last few months. Do you need more info?
Feel free to contact us for product information, events, customer care and open jobs.