Moscow Stone Processing Factory (OOO "MKK") - The first Multiwire machine for granite blocks cutting has been installed in Russia
OOO "MKK", the oldest stone processing enterprise in the post-Soviet area founded in 1937, today is a group of consolidated companies of various specificities. It owns quarries of stone in different regions of Russia.
The construction of a new factory building of OOO "MKK" was completed in the town of Dolgoprudniy (Moscow region) in 2020.
This building houses both the equipment from the old workshops and the new machinery among which there is the new Pedrini Multiwire Jupiter GS220 with 56 wires - 7,3 mm thick.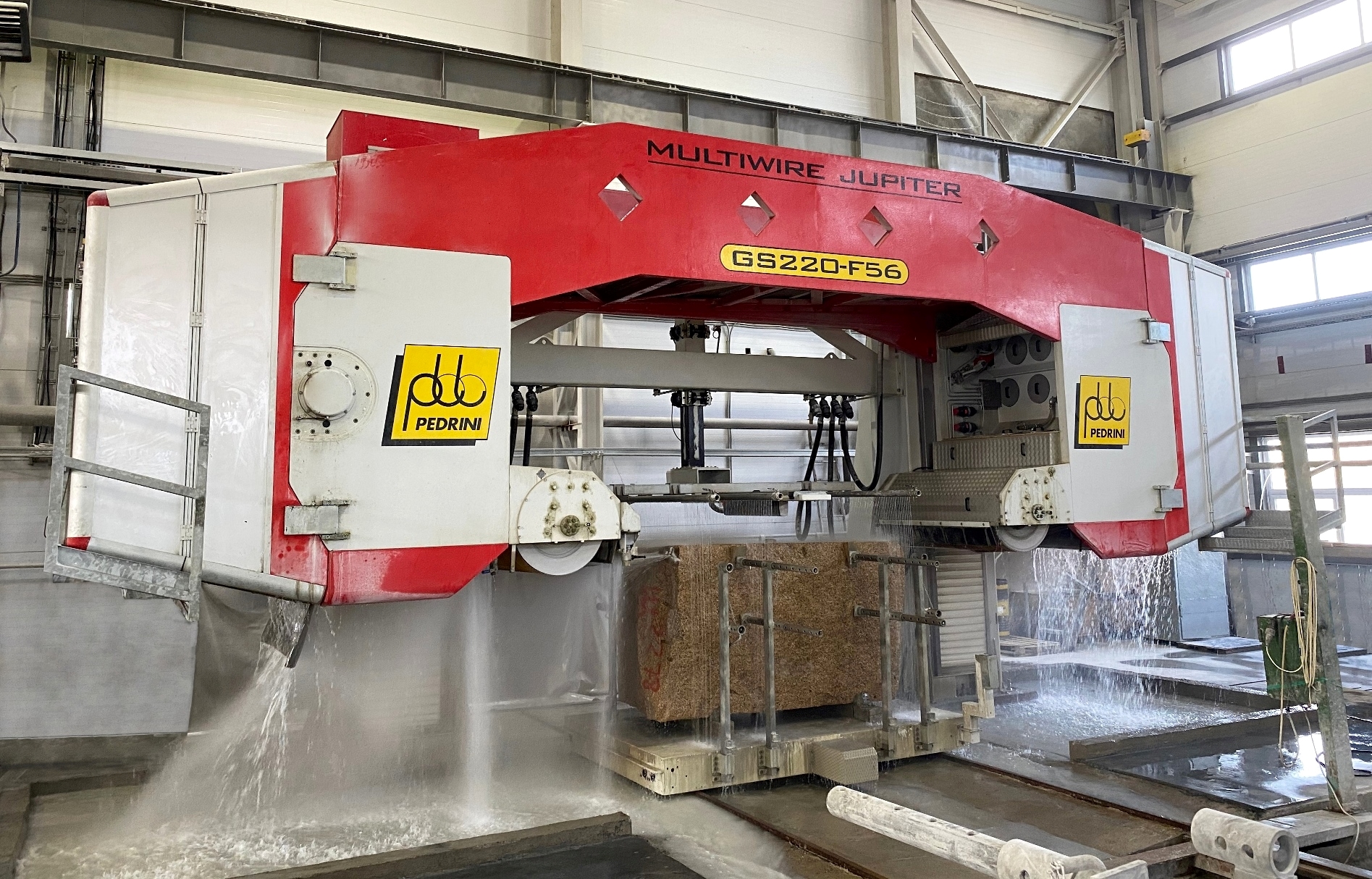 Within this period of the machine operation, it revealed the following of its features:
Flexibility in usage (the construction of the machine allows to exercise the simultaneous block cutting to slabs of various thickness)

Precision of cutting

High speed of cutting

Ease of use (due to the user-friendly software the machine is easy in operation at all the stages of its work).
In addition to all the qualities that the Customer managed to appreciate within the period of the machine operation, Pedrini Multiwire machine Jupiter has a number of peculiarities (thanks to lots of patented creative technological solutions) that make it cost-cutting and reliable, specifically:
Low cost of maintenance (due to ingenious technological solutions, it became possible to increase the life span of the components subject to wear)

Increase of the diamond wire durability (thanks to the innovations and exclusive system of individual wire tensioning which automatically adjusts any possible difference in the wires movement)

High level of cutting steadiness (thanks to the big diameter of modular and vulcanized wire-guide rollers).
The inauguration of the factory was held in August of 2020 with the participation of Mr. Vorobyov, the Governor of the Moscow region, who expressed his confidence that OOO "MKK" will be the leader of the Russian stone processing industry in future as well.
In the opinion of Mr. Tkach, the President of OOO "MKK" the fruitful cooperation with Pedrini company will further continue for the benefit of both companies. Do you need more info?
Feel free to contact us for product information, events, customer care and open jobs.