Marble slabs: Perla Marmi chooses Pedrini technology
Perla Marmi, located in Custonaci (TP), Italy, has recently expanded their factory with the introduction of new high tech PEDRINI plants for the production, polishing and resining of marble slabs.
A resin line, composed of a 6 stations PEDRINI Butterfly loader/unloader for book match, was installed by their factory: slabs loading directly from the gang saw trolley, filling unit, resining and reinforcement net application, slabs overturning unit, drops cleaning unit and slabs unloading on the rotating platform.
The addition of the 30 layers oven, the full automated material handling on slabs carrying frames, the user-friendly pro-logic software, customized and optimized according to the customer's specific requirements, and the graphic interface with touch-screen technology make the whole plant easy to be used and extremely efficient both in quality and production.
PEDRINI Galaxy B220MA-14 slabs polishing machine, with automatic loaders and unloaders and the distributor of anti-scratch substance, completes the cycle.
A modern line which, thanks to the innovative technologies, ensures high production performances, an excellent polishing quality degree, low operation costs and reduced operating personnel.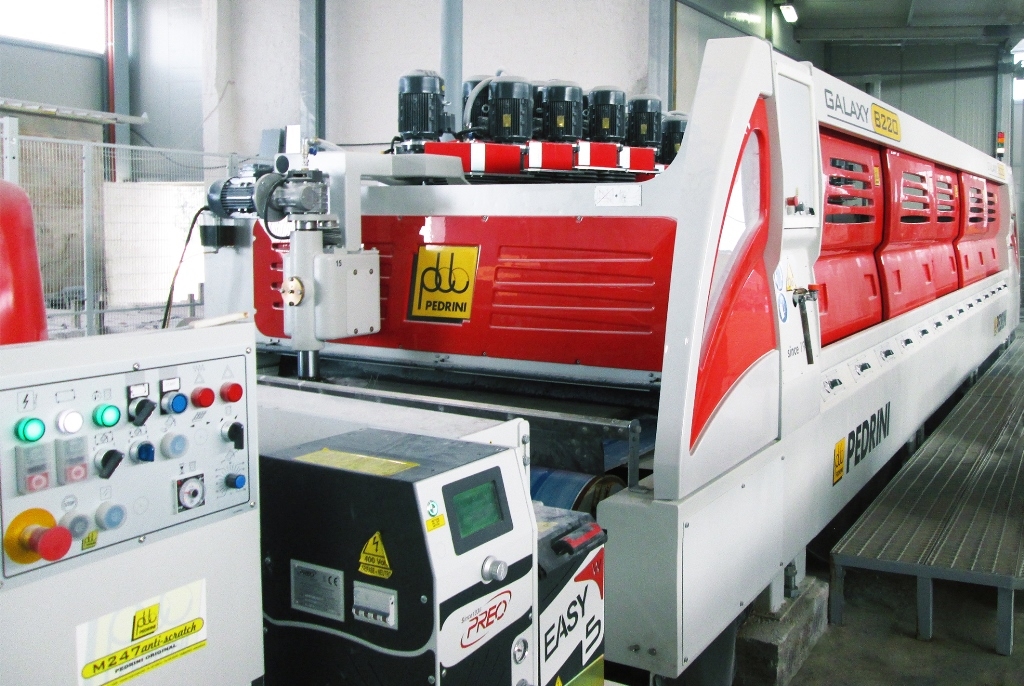 Do you need more info?
Feel free to contact us for product information, events, customer care and open jobs.