Pedrini company is constantly growing in the Indian market with the new plant of Jade Granites Industries 
Jade Granites Industries Pvt. Ltd was on a lookout to ensure super-fast processing speed with the unmatchable quality for stone processing, so they decided to invest in Pedrini technology by installing a complete plant of processing of granite and marble slabs which operates at a super-high efficiency.
The processing sequence of the plant consists of the following steps:

Block cutting by means of Multiwire Jupiter GS220 with 64 wires.
Slabs pre-polishing with Galaxy B220GB with 8 heads.
Reinforcement net application and resining of the slabs with 40 layers stock tower oven.
Final slabs polishing with Galaxy B220GB with 16 heads equipped with the exclusive 7 abrasive holders which assure a very high production capacity and great polishing degree.
Moreover, the plant includes a marble cutting department composed of an 80 blades gang saw GS131.

The sawn slabs coming from the gang saw are subsequently processed by the pre-polishing and polishing machines which can be equipped with marble plates, previously supplied by Pedrini.

The resinline, with closed structure slab carrying frames, is already suitable for the treatment of marble slabs.

Thanks to Pedrini's reliability and innovative solutions, Jade Granite Industries Pvt. Ltd is now enabled to execute international projects with the finest finished quality of exotic Natural stone from their own quarries. This results in great satisfaction and delight for Jade Granite Industries Pvt. Ltd's customers.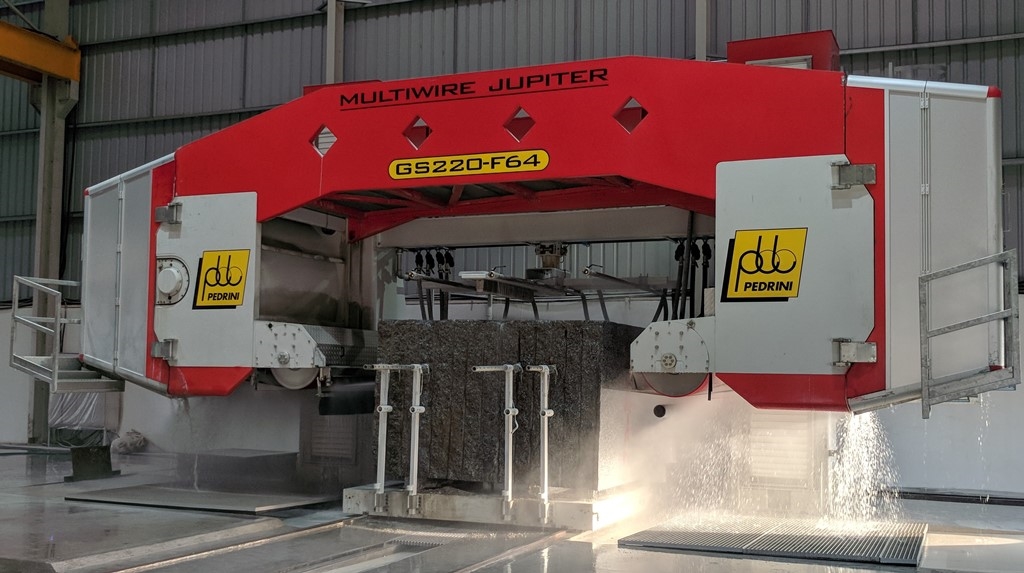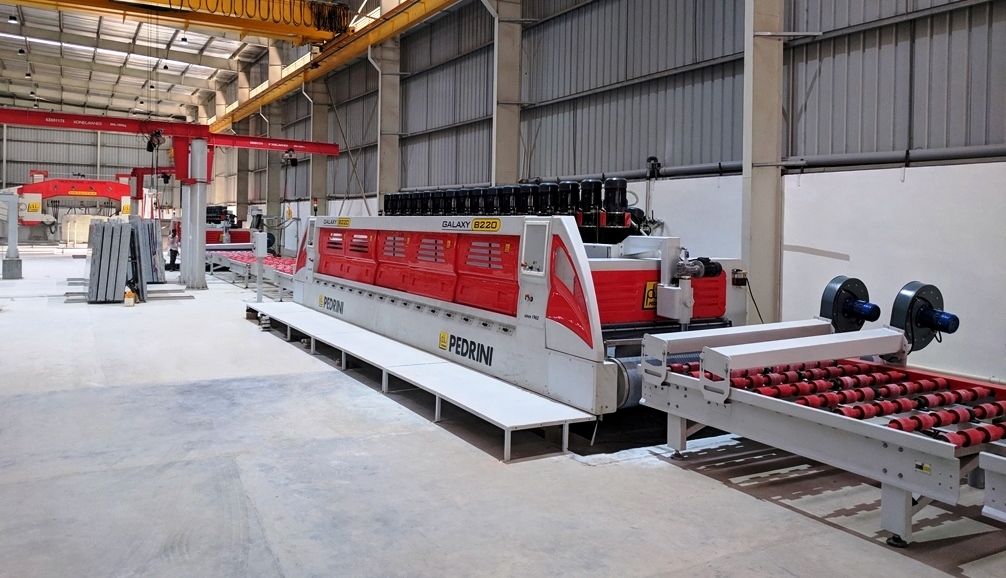 Do you need more info?
Feel free to contact us for product information, events, customer care and open jobs.