Anjalee Nature Works decides for Pedrini polishing line for granite slabs
A new polishing line for granite slabs has been started up by the company Anjalee Nature Works located in Prakasam District, Andhra Pradesh, India. The main machine of the line is the granite slabs polishing machine Galaxy B220GB with 20 Rotor spindles. The line is complete with the automatic cross cutting machine B714AD-AU.
High technological components mainly appreciated by Anjalee Nature
Works in Galaxy B220GB:
Rotor spindle, patented by Pedrini, with balanced torque transmission.
The counterpressure system. Each Rotor spindle is equipped with counterpressure control system that allows for precise vertical movement and for optimal working conditions of the polishing head.
The antishock head for 7 tilting abrasives. An exclusive Pedrini patent which ensures the perfect polishing by using a simple and peculiar mechanism which causes the abrasive sequential drive with high frequency hunting motion. Thanks to this feature, the antishock heads stand out for high removal capacity combined with low abrasives consumption.
The same Galaxy B220GB is suitable also for polishing marble slabs by exchanging the heads for granite polishing with the heads for marble polishing on the same spindle.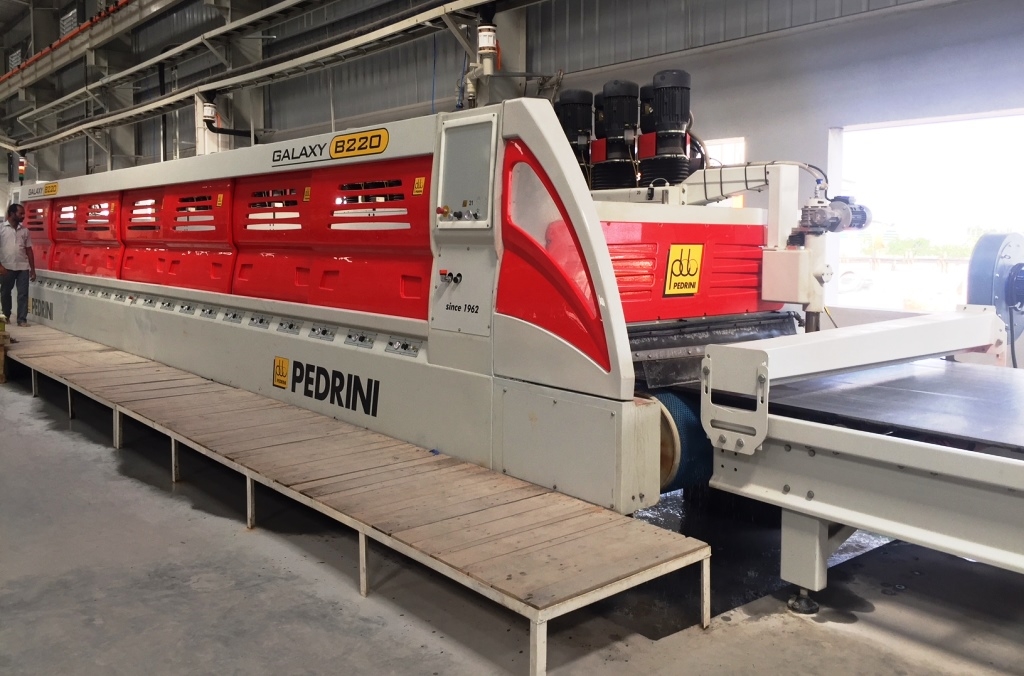 Do you need more info?
Feel free to contact us for product information, events, customer care and open jobs.