108 wires: a new success by Pedrini to cut 12mm-thick slabs
After the recent launch of Multiwire Jupiter Tech 12, the multiwire machine capable of cutting 12mm-thick slabs, Pedrini has accepted and won a new challenge: to create the first multiwire machine with 108 diamond wires with a 5.3mm diameter.
The request was made by Welt Graniti, one of the main Italian companies in the natural stone processing business, which needed to cut an entire block at once into 107 slabs with a 12mm thickness and to industrialize the process.
Not a trivial request that Pedrini accepted, aware of its technological know-how, designing in a short time Multiwire Jupiter GS220-108F-TS Tech12, a multiwire machine with 5 patents able to cut the block in an accurate and fast way, reducing both time and production costs.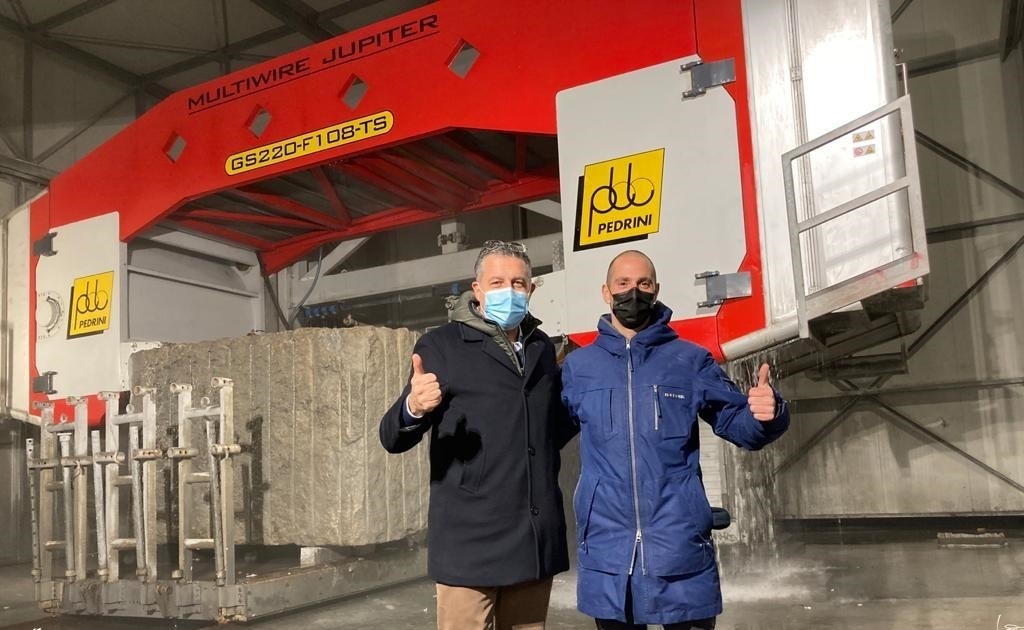 "We are very satisfied of the collaboration with Pedrini - stated Matteo Perusi, CEO of Welt Graniti– It has become a reference partner for us and, once again, it was able to support us developing ever more performing and reliable machines".
In the coming months, other Multiwire Jupiter Tech 12 will be installed, both in Italy and abroad, confirming that, once again, Pedrini is able to understand the market needs, acting as player capable of listening and proactively collaborating with its customers in a perspective of continuous improvement.
"Cutting blocks into 12mm-thick slabs has several benefits for our customers. - underlined Giambattista Pedrini, CEO of Pedrini - First of all, the block yield considerably increases from 37m²/m³ to cut 20mm-thick slabs to 53.7 m² / m³ with the 12mm thickness. Furthermore, managing thinner and lighter slabs reduces transport and installation costs. From a commercial point of view, 12 mm-thick slabs can be the right solution to broaden the fields of application and use of natural stone slabs". Do you need more info?
Feel free to contact us for product information, events, customer care and open jobs.